I went for a makeup lesson the other day. Wanted to drag Lili to go with me, but she is still in Korea, so I had to go by myself. 
This is not the casual workshop type that teaches simple everyday makeup. It is a one-to-one lesson with a professional makeup artist/trainer, conducted by MAKE UP FOR EVER. It is definitely more in depth, and you could ask specific things that you otherwise wouldn't be able to, in a big class.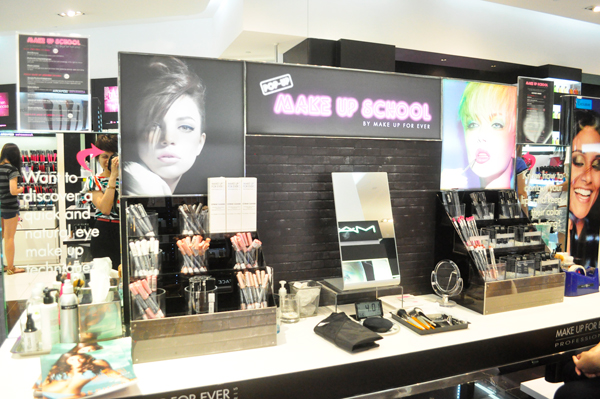 The makeup lesson was conducted at Sephora, ION Orchard. Extremely convenient. Plus I could get my dose of bubble tea and Awfully Chocolate after that!! :P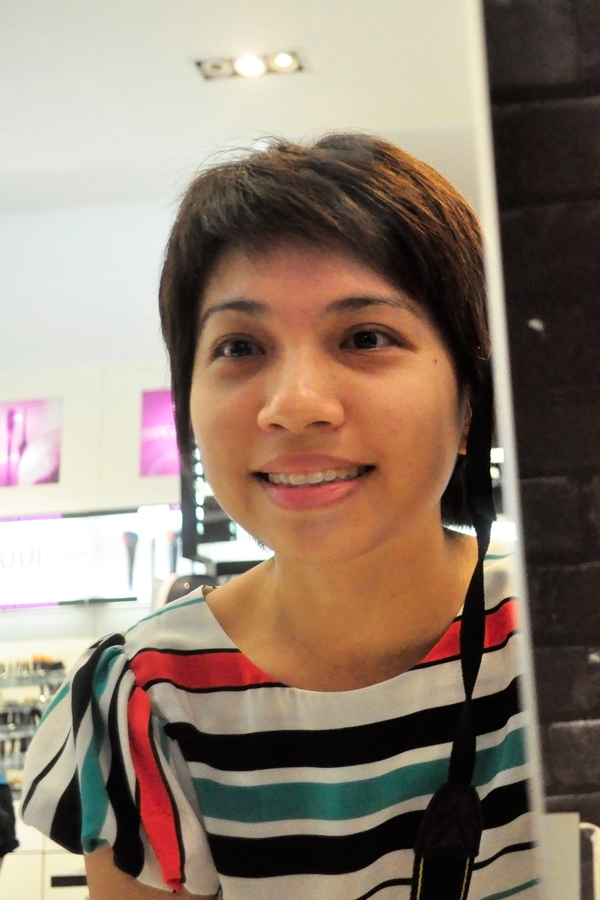 Me before any makeup.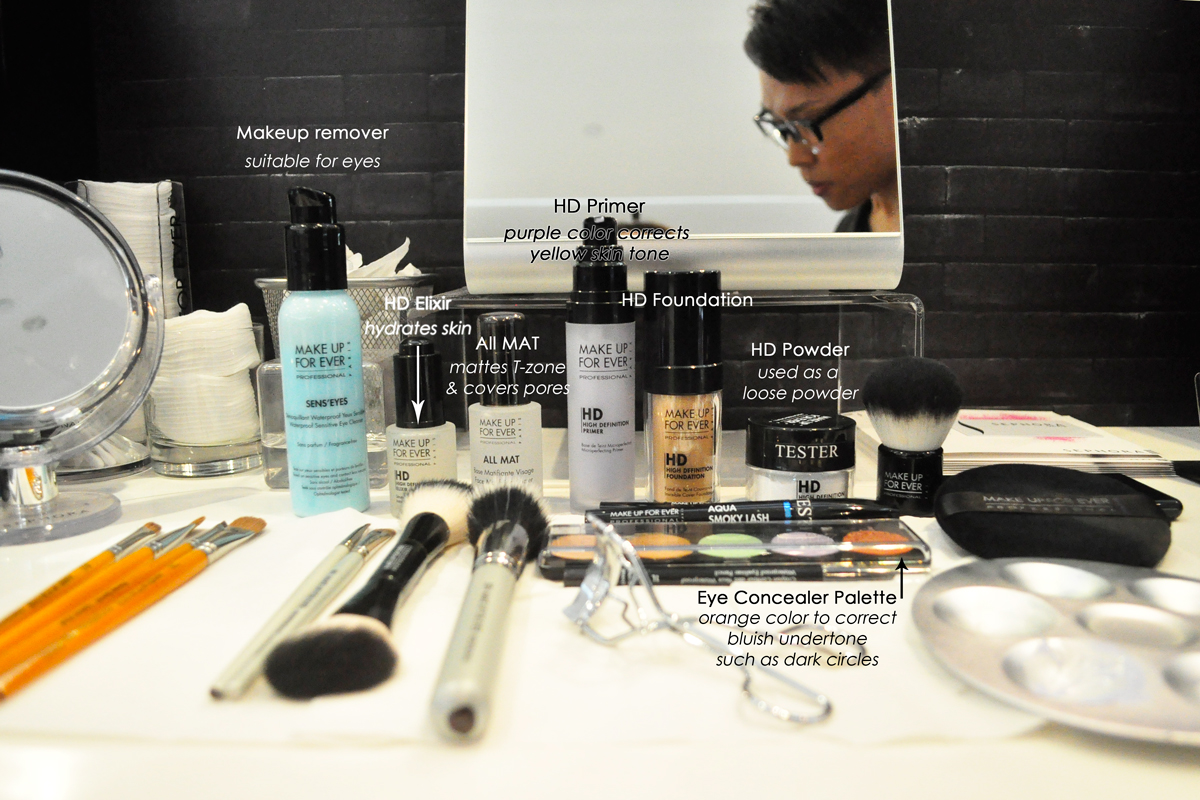 I was astonished with the number of items on the table. (Click on the picture to enlarge.) 
And it didn't even include the eye colors, lipsticks, mascara etc. Honestly, do we need to use that many products? Haha.
Well I guess if it's just an everyday makeup, you could just put on the basic stuff. This is really full makeup for things like functions, photoshoots, theatres etc. It was excellent for me, since I do my own photoshoots for Chandelle House.
I got to learn the different colours of primers and their respective uses (for example purple colour corrects yellow skin tones while orange color helps to cover dark circles); the different brushes for different purposes and the correct ways to use them.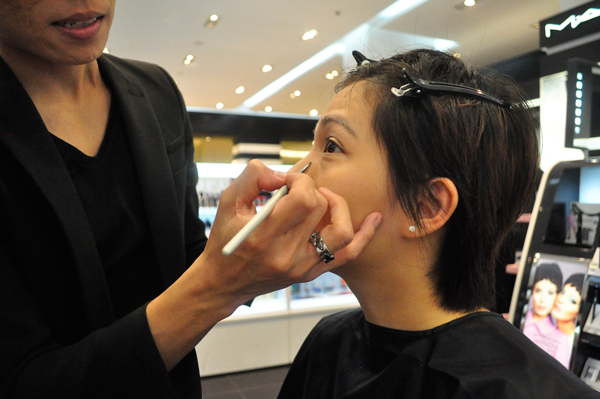 The trainer Wan, demonstrated each step on the left side of my face, and I was to do it myself on the right side.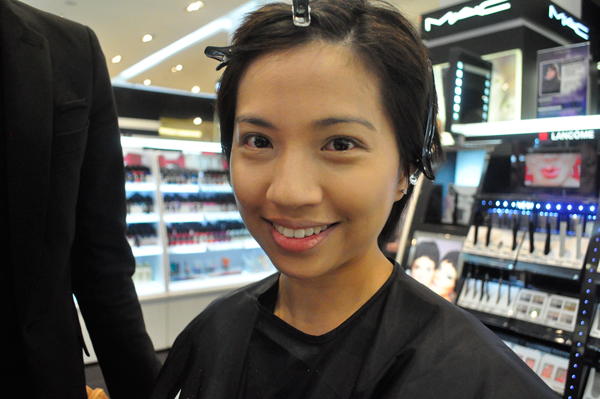 That was one of the last photos I managed to snap before being told by the security guard that photography was not allowed in Sephora. Sobz.
Luckily ION has clean, nice-smelling toilets where I could park myself to camwhore. \\>_<//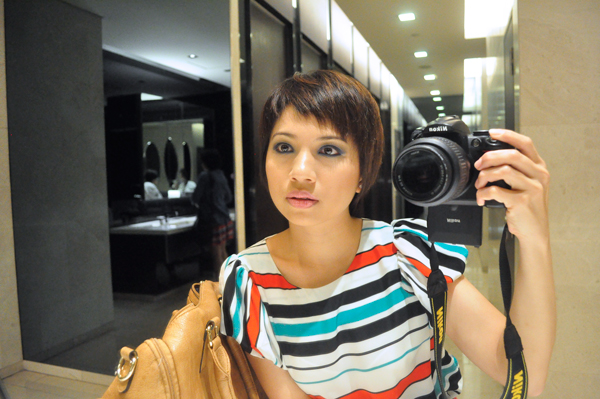 Love the smokey eyes!! 
You could use the same technique with lighter eye colors for a less intense result. Time to stock up on new eye shadows!  
Love my new top and belt! Watch out for them in Chandelle House! Coming soon. 
Wan opted the sculptor for me instead of blusher, coz it goes better with the intense smoky eyes. See how the sculptor slims the face and creates the illusion of high cheek bones. 
I'm usually a blusher girl, but the more I look at these photos, the more I'm in love with the sculptor. Must get one of those!!
I did the Complete Make Up Lesson (75 mins), and am really happy with my newly acquired skills. Gonna try the smokey eyes with my models next time! :D 
MAKE UP FOR EVER - COMPLETE MAKE UP LESSON (75 mins) 
Sephora, ION Orchard (Level 1)
For those who are into more professional makeup, they have an academy where they teach runway makeup, airbrush techniques, body paints etc.